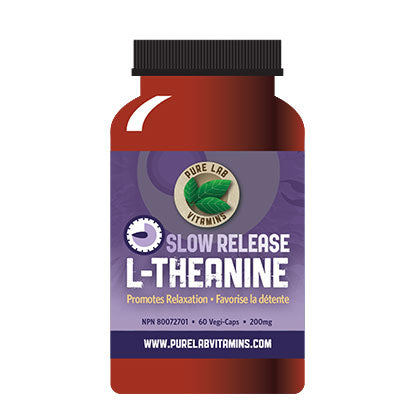 Pure Lab L-Theanine Slow Release, 60 Veg Capsules
Descriptions & Features:
Promotes concentration and relaxation
25% of Canadians are affected by anxiety in their lifetime L-Theanine can be used to control this
Helps to calm racing thoughts
Doesn't cause drowsiness
Help take preventative action against chronic disease by reducing stress with the help of L-Theanine
When taken at bedtime, customers report significant benefits with problems of waking up too early with spinning thoughts. Especially when combined with Magnesium Glycinate or Magnesium Glycinate Nighttime at bedtime.
Suggested Use: Adults - Take 1 capsule per day or as directed by a health care practitioner.
Ingredients
Ingredients: Per Tablet
Non-medicinal Ingredients: 100% vegi-caps, Cellulose, Magnesium Stearate
(veg source), Hypromelose SR Agent is derived from vegetable cellulose made from either pine or poplar. Contains No: Gluten, wheat, sugar, yeast, milk, egg, shellfish, soy, corn, or preservatives. No artificial colours. Product is vegan and halal.