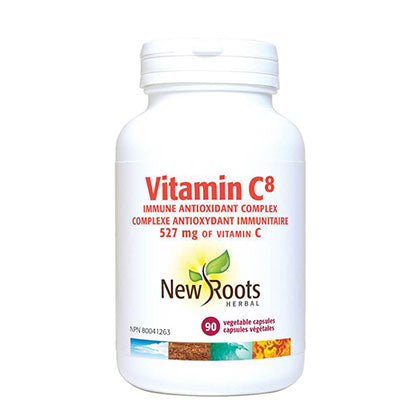 New Roots Vitamin C8 527mg, 90 Capsules
Save

Liquid error (snippets/product-badge line 32): Computation results in '-Infinity'

%
Description & Features:
Formulated with eight forms of buffered vitamin C, Vitamin C⁸ contains additional cutting-edge nutraceuticals dedicated to excellent health. It's also less acidic, for enhanced gastrointestinal tolerance.
For your body to truly get all the benefits of vitamin C, it needs to get it from more than one source. Vitamin C⁸ combines calcium, magnesium, potassium, zinc, manganese, selenium, and sodium mineral ascorbates with ascorbyl palmitate to provide a full spectrum of powerful antioxidant benefits. Only Vitamin C⁸ offers eight assisted pathways of absorption and retention for 24 hours or more. Vitamin C⁸ does even more for your health: Vitamin C⁸ helps enhance your immune strength and is an excellent source of electrolytes which can replenish those lost through perspiration. It also delivers the antioxidant action of three cups worth of green tea per capsule.
Suggested Use: Adults - Take 1 capsule twice daily (in divided doses) with food or as directed by your health-care practitioner. If you are taking other medications, take this product a few hours before or after them. Consult a health-care practitioner for use beyond 4 weeks.
Ingredients
Ingredients: 
Vitamin C ... 527mg

 


(from calcium ascorbate, magnesium ascorbate, potassium ascorbate, sodium ascorbate, ascorbyl palmitate, zinc ascorbate, manganese ascorbate, and ascorbic acid) 
Green tea (Camellia sinensis) leaf extract, 75% epigallocatechin-3‑gallate (EGCG) ... 30mg

 

Blend of berry extract, 20% multianthocyanidins

 ... 

25 mg
Calcium (from calcium ascorbate)

 ... 

24 mg
Citrus bioflavonoids (from bitter orange [Citrus × aurantium]), ... 20mg
50% hesperidins

 

Cranberry (Vaccinium macrocarpon) fruit 107× concentrate

 ... 

20 mg
Grape (Vitis vinifera) seed extract, 95% proanthocyanidins

 ... 

20 mg
Quercetin

 ... 

20 mg
Rutin

 ... 

20mg
Magnesium (from magnesium ascorbate)

 ... 

17.5 mg
Bilberry (Vaccinium myrtillus) European fruit extract 

... 

10 mg
25% anthocyanosides

25% anthocyanosides
Japanese knotweed (Fallopia japonica), 50% resveratrol

 ... 

10 mg
Zinc (from zinc ascorbate)

 ... 

9 mg
Bromelain (from pineapple [Ananas comosus var. comosus] stem),
2400 GDU/g (180,000 FCC PU)

 ... 

5 mg
Manganese (from manganese ascorbate)

 ... 

1.56 mg
Black pepper (Piper nigrum) fruit extract, 95% piperine

 ... 

1 mg
Papain (from papaya [Carica papaya] fruit) (50,000 FCC PU)

 ... 

500 mcg
Selenium (from yeast-free ʟ‑selenomethionine)

 ... 

15 mcg
Non-medicinal Ingredients: Vegetable magnesium stearate and silicon dioxide in a non‑GMO vegetable capsule composed of carbohydrate gum and purified water.