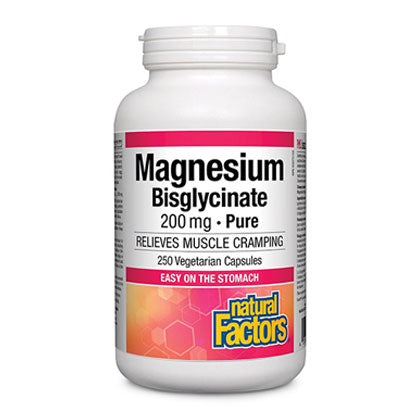 Natural Factors - Magneisum Bisglycinate 200mg - 250vc
Descriptions & Features:
A factor in the maintenance of good health
Helps maintain the body's ability to metabolize nutrients
Helps maintain proper muscle function, including the heart muscle
Bisglycinate form is easy on the stomach and does not cause diarrhea
Supports tissue formation and the development and maintenance of bones and teeth
Suggested Use: Adults - 1 capsule daily or as directed by a health care practitioner.
Ingredients
Ingredients: Per Capsule
Magnesium (bisglycinate, oxide) ... 200mg
Non-medicinal Ingredients: Vegetarian capsule (carbohydrate gum [cellulose], purified water), microcrystalline cellulose, vegetable grade magnesium stearate (lubricant), silica.
Cautions: Consult a healthcare practitioner for use beyond 6 months. Do not use this product if you are pregnant or breastfeeding. Do not use with other potassium-containing supplements or with potassium-containing salt substitutes.