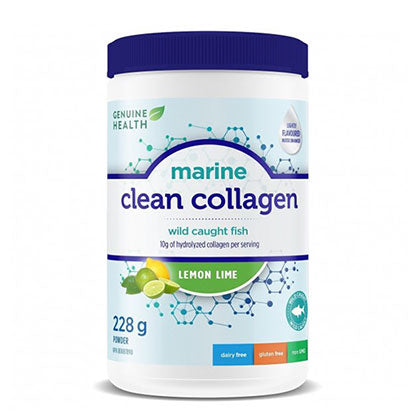 Genuine Health Clean Collagen Marine - Lemon Lime - 228g - SALE*
Descriptions & Features:
Source of essential amino acids involved in protein synthesis. Source of the amino acid lysine to help collagen formation.
Suggested Use: Adults - Add one scoop (10.89 g) per day to a hot or cold beverage of your choice and shake or stir until fully dissolved. Store in a cool, dry place.
Ingredients
Ingredients: 
Hydrolyzed collagen (fish skin) ... 10g

Non-medicinal Ingredients: Citric acid, natural lemon flavour, natural lime flavour, monk fruit extract, Stevia Rebaudiana leaf extract.
Caution: Consult a health care practitioner prior to use if you are pregnant or breastfeeding. May cause mild gastrointestinal disturbances.
*For items marked SALE*, additional discounts cannot be applied.