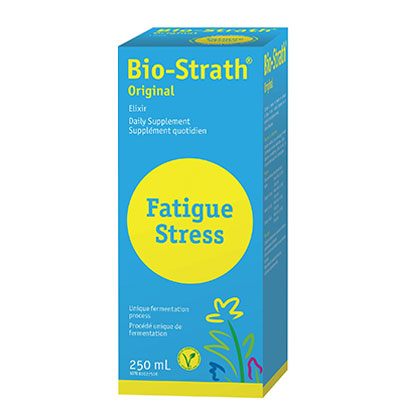 Bio-Strath Daily Supplement Elixir - 250mL - SALE*
Descriptions & Features:
Using a unique process, a special variety of yeast (Saccharomyces cerevisiae) is cultivated on herbs. By the process of fermentation, without the use of heat or chemicals, the yeast cells burst open, releasing their vital elements.

Free of preservatives and artificial colouring.

supports the immune system
contributes to the maintenance of normal bones and teeth
contributes to normal uptake of calcium and phosphorus
contributes to the preservation of normal muscle function
is needed for normal growth and development of bone in children
contributes to the normal function of the immune system in children
Suggested Use: Adults: Take 10 mL (2 tsp), 3 times daily.
Children (14 - 18 years): Take 10 mL (2 tsp), 2 times daily.
Children (9 - 13 years): Take 5 mL (1 tsp), 3 times daily.
Children (4 - 8 years): Take 5 mL (1 tsp), 2 times daily.
Ingredients
Ingredients: Per 1 Teaspoon (5mL)
Baker's Yeast ferment (Saccharomyces cerevisiae) broken cell ... 4.98 g 
Non-medicinal Ingredients: Malt extract, orange juice, honey. Contains gluten.
*For items marked SALE*, additional discounts cannot be applied.