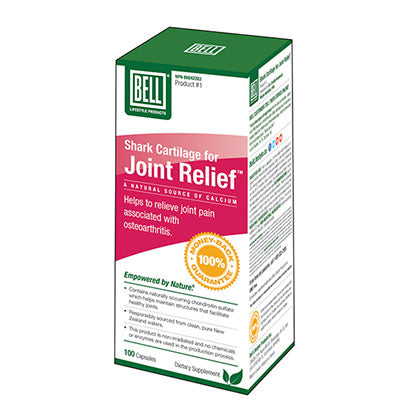 BELL Shark Cartilage for Joint Relief, 100 Veg Capsules - SALE*
Descriptions & Features:

Helps relieve joint pain associated with osteoarthritis*

A good source of calcium for proper muscle function, nerve transmission, bone health and more*

Rich in naturally-occurring chondroitin sulfate and glucosamine sulfate

The special chondroitin sulfate found in shark cartilage (consisting of mucopolysaccharides) is an important component of joint health*

Helps support overall joint health* 

GMO free
Suggested Use: Adults - Take 4 capsules, 3 times daily with meals and a glass of water. Take a few hours before or after taking medication(s). When adequate relief is attained, try lowering dosage to 3-6 capsules daily for maintenance. Three bottles are needed to take 12 capsules per day for approximately 3 1/2 weeks*.
 *Results may vary from one person to another.
Ingredients
Ingredients:
Shark cartilage ... 675 mg




(34 mg chondroitin sulfate, 81 mg glucosamine sulphate, 108 mg calcium)

Chondroitin sulfate (bovine cartilage) ... 75 mg.
Non-medicinal Ingredients: Hypromellose, magnesium stearate, titanium dioxide
*For items marked SALE*, additional discounts cannot be applied.