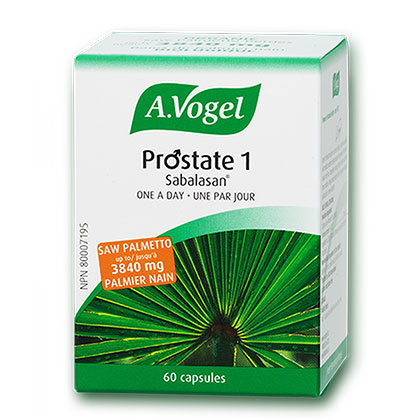 A. Vogel Prostate 1 - Saw Palmetto, 60 Softgels - SALE*
Prevents and relieves BPH (benign prostate hyperplasia) symptoms. 

Sexual drive & satisfaction

Erectile function

Ejaculatory function

All symptoms improved by 40% after only 8 weeks. Sexual dysfunction is common from age 60 onwards. 50% of men between the ages of 60 and 69 can no longer achieve an erection or can achieve only a reduced erection.

In the same age group, 49% state that they have no or only a reduced ejaculation.

The standard medical therapy for BPH can further exacerbate these sexual dysfunction.
Suggested Use: Adults - Take 1 softgel daily with a small amount of water after a meal.
Ingredients
Ingredients: Per Capsule
Organic Saw Palmetto* fruit extract (Serenoa repens) (9-12:1) ... 320 mg equivalent to 2280 - 3840 mg of berries;
and providing 80-95% fatty acids
Non-medicinal Ingredients: Gelatin, glycerin, purified water, sorbitol, iron oxide.
*Certified by: OCIA International
Note: Alcohol is used to extract the maximum amount of active components and supporting elements of the saw palmetto berry. The extract is gently vacuum dried to approximately 30% of its original volume. In the final concentration, there is no alcohol.
Caution: Consult a healthcare practitioner prior to use to exclude a diagnosis of prostate cancer. Consult a health care practitioner prior to use if you suffer from or have a history of cardiovascular disease or any psychological disorder and/or condition such as frequent anxiety or depression. Consult a healthcare practitioner if symptoms persist or worsen. Avoid taking in case of allergy to any of the ingredients in the product. Do not use if safety seal is broken. Keep out of reach of children.
*For items marked SALE*, additional discounts cannot be applied.