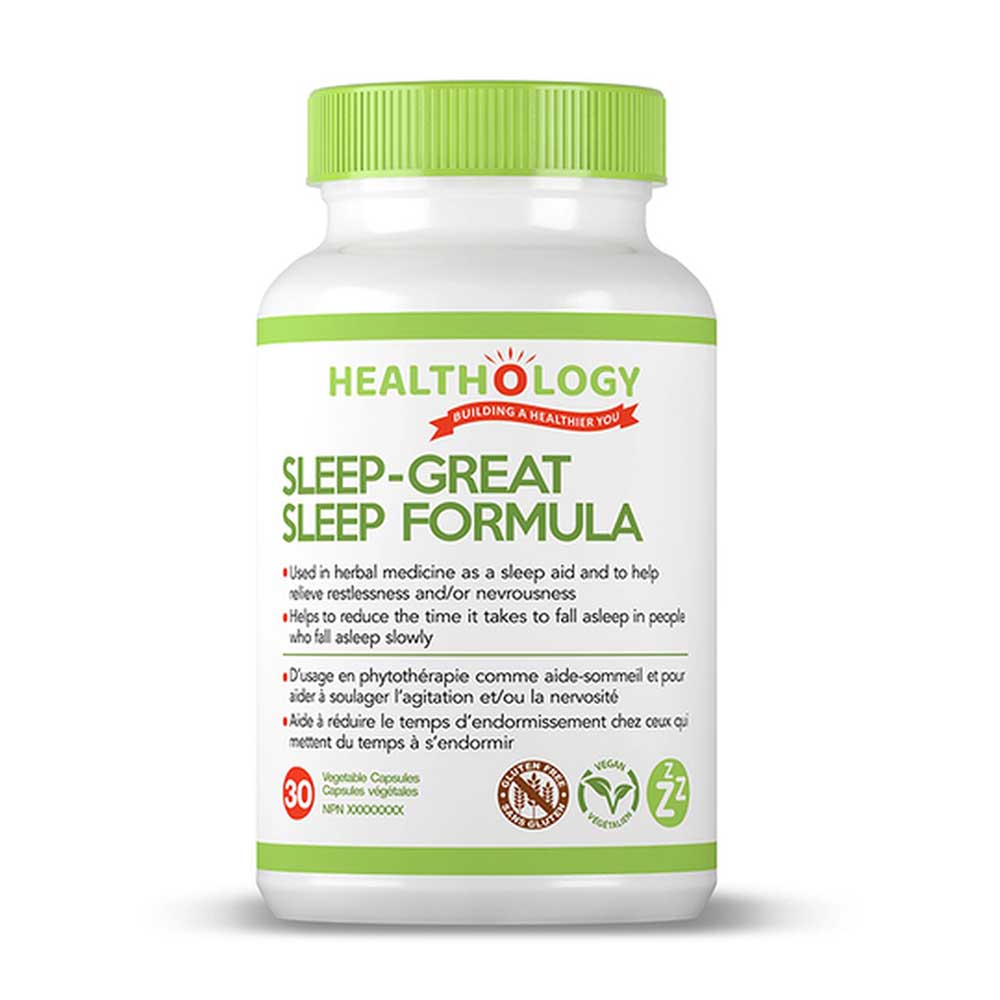 Healthology Sleep - VEGAN Great Sleep Formula, 30 Veg Capsules
Save

Liquid error (snippets/product-badge line 32): Computation results in '-Infinity'

%
How it Works:
Melatonin-  Enhances the body's natural melatonin production to assist with falling asleep and achieving a deep, restful sleep state
L-Theanine - Assists with falling asleep and reducing sleep disturbance
L-Tryptophan - Assists with falling asleep and staying asleep without causing morning grogginess
GABA (Gamma Aminobutyric Acid) - A primary inhibitory neurotransmitter in the brain, meaning it promotes feelings of calm and relaxation by taking us out of "fight or flight" and putting us into a "rest and digest" nervous system state
5-HTP - Crosses the blood brain barrier and readily converts to serotonin in the brain, which improves mood, reduces anxiety and regulates sleep
Loquat fruit Erijobotrya japonica 15:1 Extract, 25% Ursolic Acid
Activates GABA receptors to enhance sleep duration, helping us to stay asleep longer
Valerian Root 4:1 Extract 0.05% Valerenic Acids - Improves sleep quality through increasing GABA in the brain, which promotes relaxation as we fall asleep and regulates NREM and REM cycles to facilitate a deep sleep state
Skullcap Herb Top 4:1 Extract - Reduces stress and anxiety through stimulating GABA receptors in the brain to promote relaxation.
Passionflower Herb Top 10:1 Extract - Gentle sedative effect that significantly improves nervousness and anxiety through boosting GABA levels in the brain.
Schisandra Fruit 10:1 Extract - Acts as an adaptogen in the body by supporting our ability to cope with stress and promoting relaxation through acting on the serotonin pathway.
Suggested Use: Adults - As a sleep aid and all other uses: Take 1 or 2 capsules, daily, with water, at or before bedtime as needed. For Jet Lag: Take 1 or 2 capsules with water, once a day at bedtime, while travelling and at destination until adapted to the new time zone or daily pattern. Do not drive or operate machinery within 5 hours of taking this product, which contains melatonin. Avoid taking with alcohol or products that increase drowsiness.
Ingredients
Ingredients: Per Capsule
Melatonin ... 1.5mg
L-Theanine ... 200mg
L-Tryptophan ... 50mg
GABA (Gamma-Aminobutyric Acid) ... 50mg
5-HTP (5-Hydroxytryptophan – Griffonia simplicifolia – seed) ... 50mg
Loquat Fruit (Eriobotrya japonica) 15:1 Extract, 25% Ursolic Acid(QCE 975mg) ... 65mg
Valerian Root (Valeriana officinalis) 4:1 Extract, 0.8% Valerenic Acids(QCE 200mg) ... 50mg
Skullcap Herb Top (Scutellaria lateriflora) 4:1 Extract(QCE 200mg) ... 50mg
Passionflower Herb Top (Passiflora incarnata) 10:1 Extract(QCE 400mg) ... 40mg
Schisandra Fruit (Schisandra chinensis) 10:1 Extract (QCE 250mg) ... 25mg
Non-medicinal Ingredients: Vegetable Capsule Shell (Hypromellose), Oryza sativa (Rice) hull powder
Caution: Consult a health care practitioner prior to use if you have cardiovascular, immune, liver or chronic kidney disease, hormonal or seizure disorder, asthma, depression, diabetes, low blood sugar, or migraines.