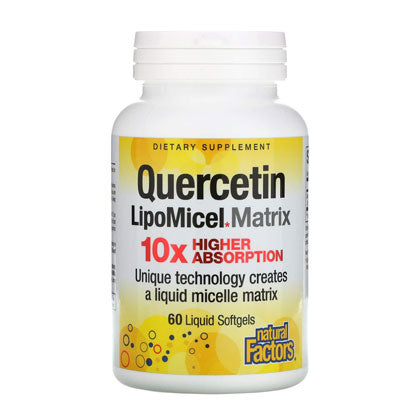 Natural Factors Quercetin LipMicel Matrix, 60 Softgels
Descriptions & Features:
Used for immune support and allergy relief

Provides a source of antioxidants

Used in herbal medicine as a blood vessel protectant

Protects against free radical damage and reactive oxygen species

Helps lower oxidative stress
Suggested Use: Adults - 1 softgel daily or up to 3 times daily with food or as directed by a health care practitioner. Consult a health care
practitioner for use beyond 12 weeks.
Ingredients
Ingredients: Per Capsule
Quercetin LipoMicel* Matrix (Sophora japonica) (bud) ... 250mg
Non-medicinal Ingredients: Softgel (gelatin, glycerin, purified water, carob powder), medium chain triglycerides, Stevia rebaudiana leaf, phosphatidylcholine (lecithin), peppermint essence.