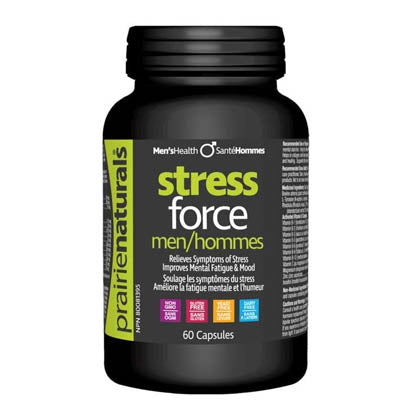 Prairie Naturals Stress Force Men, 60 capsules - SALE*
Descriptions & Features:
Improves digestion, elimination and bowel health. 

Reduces risk of heartburn, gas and bloating. 

Enhances energy and vitality. 

Promotes balanced pH in the body.

Protects from degenerative disease. 

Strengthens the immune system.

Promote healthy digestion

Prevent gas and bloating

Assist in the breakdown of foods

Enhance absorption and assimilation of nutrients
Suggested Use: Adults - Take 1 V-Capsule at the start of each meal; or contents of capsule may be mixed into cold or warm foods. Enzymes deactivate at high temperatures, do not sprinkle on hot food.
Ingredients
Ingredients: Per Capsule 

Bovine adrenal gland cortex (bos taurus) ... 100 mg

L-Tyrosine (N-acetyl-L-tyrosine) ... 250 mg

Rhodiola (Rhodiola rosea L.) PE root ... 0.75 mg




(standardized extract 3% rosavins, 1% salidroside)

Vitamin C (as magnesium ascorbate, zinc ascorbate) ... 81.5 mg




Magnesium (magnesium ascorbate) ... 4.88 mg

Zinc (zinc ascorbate) ... 3.75 mg

Inositol (inositol hexanicotinate) ... 5.75 mg
Activated Vitamin B Complex

Vitamin B-1 (benfotiamine 12.9mg, thiamine HCl 5mg) ... 17.9 mg

Vitamin B-2 (riboflavin as riboflavin 5'-phosphate) ... 25 mg

Vitamin B-3 (niacin as inositol hexanicotinate) ... 19.25 mg

Vitamin B-5 (pantothenic acid as calcium-d-pantothenate) ... 50 mg

Vitamin B-6 (pyridoxal 5'-phosphate, P5P) ... 25 mg

Vitamin B-9 (folate as L-5-methyltetrahydrofolate, MTHF-5) ... 400 mcg

Vitamin B-12 (methylcobalamin) ... 500 mcg
Non-Medicinal Ingredients: Magnesium stearate, microcrystalline cellulose, silicon dioxide and capsules containing gelatin and purified water.
Caution:  As with any natural health product, you should consult a healthcare practitioner on the use of this product. Do not use if seal is broken. Keep out of reach of children.
*For items marked SALE*, additional discounts cannot be applied.