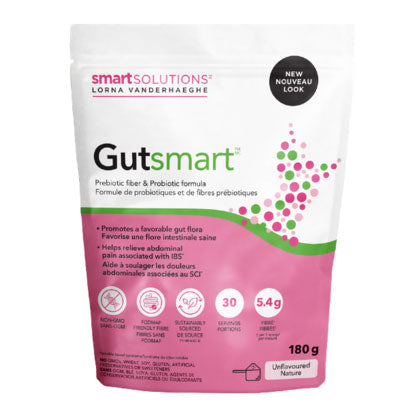 *PROMO* ONLINE ONLY - Smart Solutions by Lorna Vanderhaeghe GutSmart (Prebiotic & Probiotic Fibre) 180g- SALE*
Descriptions & Features:
Promotes a favourable gut flora

Helps relieve abdominal pain associated with IBS

LOW FODMAP fibre

Non GMO

Sustainably sourced and harvested, using practices that yield 35% more acacia gum, while protecting acacia trees from deforestation and supporting the economic and social development of the women who harvest our acacia gum.
Suggested Use: Adults - Mix 1 scoop (6 g) into 250 ml of any non-carbonated beverage of your choice or water.
Ingredients
Ingredients: Each Scoop (6g)
LactoSpore® (Bacillus coagulans) ... 2 Billion CFU


(MTCC 5856, Whole cell)

Inavea™ Organic Acacia(Senegalia, Gum) ... 6 g
Caution: Do not use this product if you have diabetes mellitus in which blood sugar is difficult to regulate or if you have an immune-compromised condition (e.g. AIDS, lymphoma, patients undergoing long-term corticosteroid treatment). Consult a health care practitioner prior to use if you have fever, vomiting, bloody diarrhea or severe abdominal pain. Stop use and consult a health care practitioner if symptoms of digestive upset (e.g. diarrhea) occur, worsen and/or persists beyond 3 days. May cause temporary gas and/or bloating.
*For items marked SALE*, additional discounts cannot be applied.